Written by Jaymi Naciri on Wednesday, 08 February 2017 3:37 pm
Here's the thing. You can watch
Flip or Flop
and see that, despite all the drama in every episode (disagreement about floors/kitchen/overall spend, unpermitted addition/scary mold situation/ridiculous electrical nightmare that's going to derail the whole thing) they still pretty much always make money. And that money is enticing. Obviously.
*Amy Stockberger Team listing photo
That's why so many people want to do it. The most recent RealtyTrac analysis of this segment of the market shows that "6.6% of all single-family and condo sales in the first quarter of 2016 were flips. That's up 20% from the previous quarter and 3% year over year. And the number of flippers grew by 8% from the first quarter of 2015," said Fortune.
But, before you decide to forge ahead, you might want to give yourself a reality check. The Flip or Flop folks were BROKE for a long time after the last market crash before they started to make any money flipping. Like downsizing from a $6,000 per month mortgage to a $700 apartment broke. We've all seen them maxing out credit cards, borrowing from family, and paying outrageous rates to hard money lenders to get their deals done.
They make $10,000 per episode now, which is outside of any profit they make on the homes. They flip multiple properties at once, with the knowledge, experience, cash reserves, and network to pull it off successfully. It's their full-time gig, so they're able to dedicate far more time to the effort than the average "After 6/weekend flipper."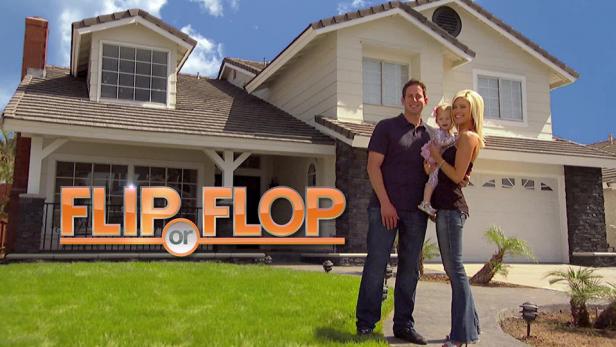 HGTV
And then there's the fact that, sometime during all their success building, their marriage unraveled. If you're planning a family flip, keep in mind the stress involved. That's "Do" number one. Here are several more, and an equal amount of "Don'ts" to keep you on track if you're still looking to go for it.
Do:
Hire good people – before you flip, not after, so you have your team in place and ready to go when you buy your house. And, also, to help you make smart choices about that purchase. "A smart way to go about your flip is by taking your contractors with you as you first tour the property so they can give you estimates on repairs immediately," said Flipping Virgins host Egypt Sherrod on
HGTV
. "This way, you are not fishing around for estimates AFTER you've already purchased the property. This cuts down on renovation surprises."
Don't:
Ignore red flags. Water damage, mold, asbestos, foundation issues – they may turn out to be small problems that are relatively easy to fix. Or they could be complete disasters that sink your budget and leave you in financial ruin. It's generally best to save homes that are in severe disrepair for after you have a few flips under your belt.
Do:
Secure your financing ahead of time. Winging it probably won't yield the best results, especially if you don't have a good handle on how much your flip will really cost.
Don't:
Go big the first time out of the gate. That mansion in the gated neighborhood that hasn't been updated since 1972 might seem like a moneymaker, but without a ton of experience, processes that work, and a trusted network, you'll probably be in over your head.

KGMI
Do:
Pay attention to the market. Knowing
which cities are best for flipping
and keeping up on real estate trends and interest rate news can help make you successful.
Don't:
Just do the bare minimum when more is clearly needed. Everyone who's ever bought a home to flip hopes and prays for one that just needs a fresh coat of paint and some new carpet. Get in, get out, get your money, right? But that's an unlikely reality in many cases. Ignoring really outdated kitchens and baths and obvious defects probably won't yield you the kind of return you're envisioning.
Do:
Pay attention to the neighborhood. That means taking a good look at what's going on there, who lives there, and what the real estate values are. If you can't identify growth potential, it might be best to walk away. Also, you don't want to go super modern in a home that caters to a mostly classic crowd, and you never want to over-improve for the neighborhood or you probably won't get your investment back.
Don't:
Blow your budget on day one. If you get into a bidding war or are trying to buy your first flip at auction, chances are good you'll get caught up in the excitement and go over what you planned to spend.
Do:
Price it right. Being too aggressive about pricing can be a downfall for any home for sale. But if you went over budget or over your time schedule and are eager to get your money out of your flip, you may be thinking that a higher sales price will even everything out. You're spending money every day to carry that home, so it might be smarter to price it a little more competitively and get it sold. Then, you can be on to your next flip!
Don't:
Blow your budget on day two, either. Once you've bought your first flip house, you might want to run right out and buy all the pretty materials you've been thinking about. And those can be budget-busters. Stick to the budget you've made by making savvy buys and swapping where necessary. If you see a great flooring deal that saves you $1,000, the best move is to bank that money in case of an emergency (or to fatten your profit). But if you want to upgrade to the countertop that's going to be the best fit for the kitchen, you now have the money.
Do:
Know your limits. Planning to tile the whole house yourself? Have you ever tiled a whole house before? Or even a bathroom? No? Overvaluing your skill level and taking on projects you're not qualified for may just leave you frustrated, potentially injured, and probably in need of a professional to ultimately come and clean up your mess. Can you save money by DIYing? Sure. But making smart choices will help things progress smoothly instead of holding them up and costing you more money in the long run.

auditionsfree.com
Don't:
Buy your first flip at auction. "Some auction companies have open houses so potential bidders can walk through the properties ahead of time,"
said Investopedia
. But for many auction and foreclosure houses, this isn't true. Buying a property you haven't been able to walk through or have an inspection of is always challenging, even for experienced flippers (see almost every episode of Flip or Flop where an auction or "as is" foreclosure property is involved).
Do:
Be honest with yourself about costs. "If you calculate a potential flip this way: Buy a house for $100,000, spend $20,000 on improvements, sell it for $150,000 and earn $30,000 profit, you clearly haven't done all the math that's needed,"
said US News
. "What about the cost of borrowed money and the cost of selling the house? What if the contractor discovers, once he starts the work, that half the plumbing lines are rotted? What about the cost of insurance, utilities and property taxes while you own the house? You must dig below the surface-level figures to paint a complete and accurate picture of the flipping opportunity. Only then can you determine whether it's a sound financial move for you."
Don't:
Get carried away with finishes. Not every house needs a commercial range and marble countertops. Refer back to: Know your neighborhood.
Do:
Be smart about your home criteria. If you know a one-bedroom condo is hard to sell now, it'll still be hard to sell after being renovated.
~~~~~~~~~~~~~~~~~~~~~~~~~~~~~~~~~~~~~~~~~~~~~~~~~~~~~~~~~~~~~~~~~~~~~~~~~~~~~~~~~~~~~~~~~~~~~~~~~~~~~~~~~~~~~~~~~~~~~~~
The Amy Stockberger team offers the highest level of service in creating a smooth transaction which is made possible by using the array of systems and checklists that have been developed with years of experience and knowledge. With the best technology available, The Amy Stockberger Team surpasses their competition and is consistently dedicated to making their client's goals their number one priority. Call us today and put the top real estate team in Sioux Falls to work for you!
3220 S. Western Ave. Sioux Falls, SD 57015
(605) 376-6780
www.siouxfallsrealestateonline.com